10h du matin c'est chien !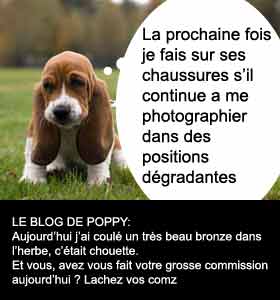 Complètement naze comme titre je suis d'accord, enfin j'ai les yeux collés et tout ce matin alors je fais de mon mieux faut pas m'en vouloir.
Pourquoi un titre aussi pourri ? (mince je remarque que je commence souvent mes billets par des questions du style pourquoi ceci, pourquoi cela, faudrait que je me renouvèle un peu. Rhâ et ma fâcheuse manie de penser entre parenthèse :'()
Et bien pour vous présenter
deux sites complètement inutiles
(et j'exagère a peine) ayant pour
thème nos amis a pattes, a truffe et a poils: les chiens
Autant attaquer le vif du sujet avec
le premier site:
http://www.dogsontheblock.be
(
Don't be fooled by the rocks that I got I'm still, I'm still Dogs on the block
, un bisou a celui qui trouve la référence dans les commentaires).
Ce merveilleux site est
un site de rencontre pour chiens
, oui oui ! Pourquoi il n'y en aurait que pour les humains hein, les chiens aussi aiment draguer (pour ne pas dire autre chose on est sur un blog poli ici). Avec ce site vous pouvez rechercher les trajets des balades des divers autres propriétaires de chiens inscrit sur le site vous permettant ainsi de croiser par le plus pur des hasard d'autres baladeurs de chiens (du coup ca fait aussi rencontre entre gens, double effet kisskool)
Il est également possible de noter les diverses promenade, de mettre des photos de votre chien et autres joyeusetés. Donc si votre chien s'ennuie (ou vous même) optimisez vos balades grâce a
http://www.dogsontheblock.be
Deuxième site
tout aussi inutile (voir peut-être même plus, le coup des promenades pour rencontrer d'autres personnes ca peut avoir son utilité en dernier recours avant de se pendre), le merveilleux site
http://www.toutoublog.com
!
Je suppose que rien qu'avec le nom vous devinez ce que c'est ? Eh bien oui c'est un site qui
permet de créér un blog pour votre chien
. Décidément l'humanité avance dans le bon sens avec des idées pareilles. Une question demeure, comment les chiens écrivent t'ils leur blog ? Je n'ai vu nul part d'interface de traduction Aboyements/Ecriture.
Allay, juste pour le plaisir je vous ai sélectionné un blog, le blog de Ryan (faudrait le sauver celui-la d'ailleurs):
Le blog de Ryan
Je sens que je vais me faire taper par les amis des bêtes après un billet pareil, arg.